Over the period of October 1 through 29, companies blew $39 billion on share buybacks, according to preliminary estimates from JPMorgan Chase, based on the average drop in share count across the S&P 500, FTSE Russell 1000, Datastream US, and MSCI US indexes, cited by The Wall Street Journal.
This was up from $30 billion in September. Based on these estimates, over the first 10 months, companies bought back about $350 billion of their own shares, an average of $35 billion a month. So in October, yes that terrible October "blackout" period, share buybacks were 11% above average for the year so far.
Let's take a gander at International Business Machines [IBM], one of the biggest share buyback queens. Since 2000, it blew $146 billion on share buybacks. The chart below shows the cumulative amounts since 2013 that IBM wasted on share buybacks: $43 billion (data via YCharts):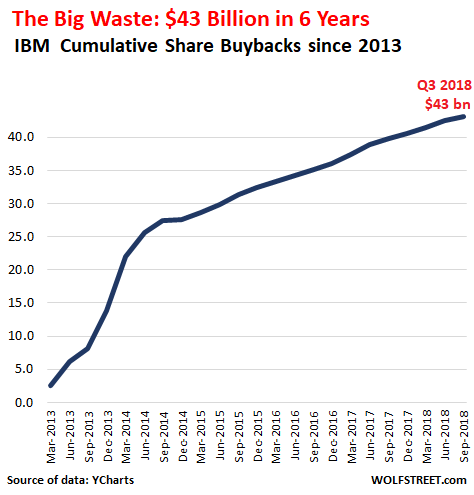 Wall Street gurus keep hyping that share buybacks "unlock shareholder value," or "return cash to shareholders," or some such thing. But here's what IBM's share buybacks did to shareholder value, as measured by the stock price: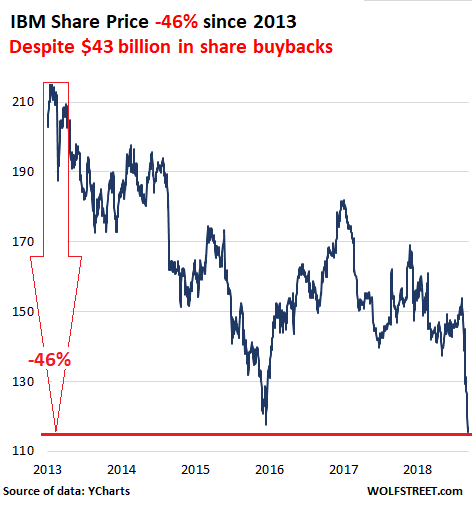 IBM has been buying back the shares it issued its own executives as part of their stock compensation plans, and the shares it issued to buy other companies, including minuscule privately-owned startups for billions of dollars. Buybacks covered up the dilutive effects from those actions.  Read More at Wolfstreet.