The US Labor Department said wage growth hit a 9-year high after growing at an annual rate of 3.1% in October, accelerating from a rate of 2.8% the month before.  The economy also added 250,000 jobs last month, beating expectations, while the jobless rate remained at 3.7%.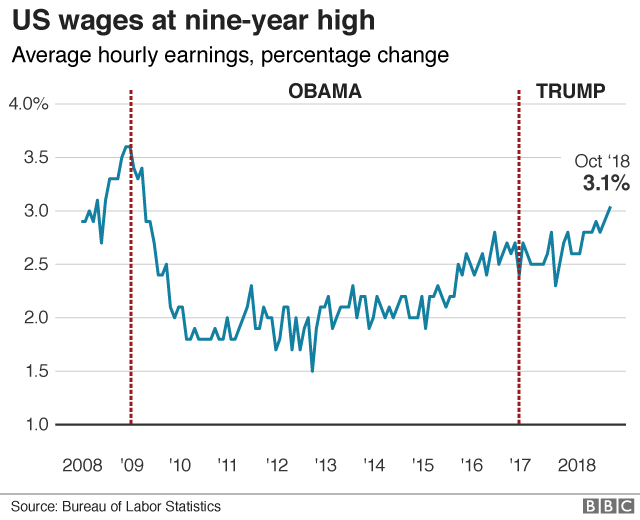 Average hourly earnings for all private workers hit $27.30 in October, up 83 cents from a year earlier. That marked the strongest annual rise since April 2009.
"Today's jobs report is a landmark in the long recovery since the Great Recession, showing the power of a tight labour market to raise pay for American workers if allowed to run hot for a sufficiently long time," said Andrew Chamberlain, chief economist at the job website Glassdoor.com.
On average, the US economy has added 218,000 jobs a month over the last three months – well above the rate needed to keep up with population growth.
The gains in October occurred in most industries, with the healthcare sector adding 36,000 jobs, manufacturing 32,000 and construction 30,000.
Employment in the leisure and hospitality sector rose by 42,000 last month. That followed no change in September, which the Labor Department said was probably due to the impact of Hurricane Florence.  Read More at the BBC.